George makes specialized wooden boxes for the mining companies and geologists, to carry and conserve the core samples. He made a small business and one day hopes to use his wood skills for making furniture as well.
Nedda works in the local supermarket and had lived in nearby Hyder for a long time.
When they got married, there had been a lot of activity in town for the movie "Insomnia" with Al Pacino, Hillary Swank and Robin Williams and they showed us photos and signatures of the stars in their wedding album. Thanks, Nedda & George, for taking so good care of us and your joy in life!
Amor was born and raised in South Africa, but lives in Prince Rupert with his family, working as a physician. He loves to go fishing with his father in law Al.
(Read about our encounters on the trip report.)
Of course we took the road less travelled 🙂 Highway 37, The Stewart Cassiar Highway, or simply The Cassiar Highway. All names for this infamous road, almost 1000km long, known for the lack of services, bad weather, bears and gravel patches. The latter issue had been solved we had been promised, but the other?
2nd September: Nugget City – French Creek, 58km
The adventure started sunny, but dark clouds appeared, especially on Ivana's face when she noticed the first set of hills. "is this going to be like that for the rest of the road?" she asked. I truly did not know, but suspected that this was just the beginning…
Fortunately some nice people made our day by donating a full bag of cut-up watermelon, just what the doctor ordered as the sun had come out. Unfortunately the wind had come to and after a week of tailwind, we were not happy to have it in our face again, slowing us down.
Ivana spotted a black bear, right beside the road, I must have raced right past him on the downhill. At least that made her a bit happier and when we also found a nice deserted rest area called French Creek where we -after hanging our foodbags in the trees- could relax near a good campfire.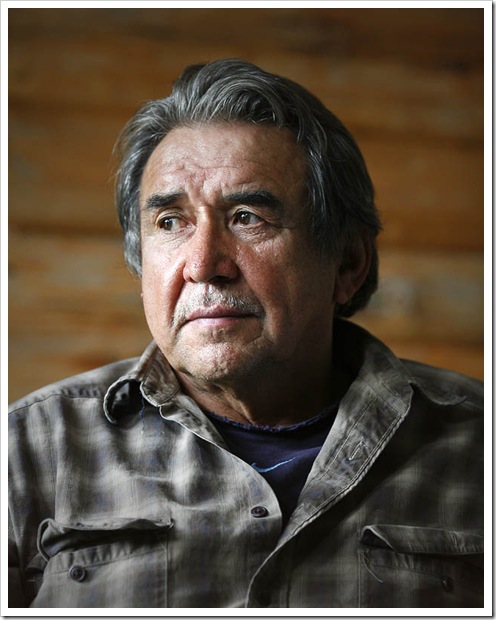 Holly Eden from Dease Lake had told us to visit Willie if we had the opportunity.
Willie is one of those persons that can fill a documentary all by himself. We arrived late, uninvited but were welcome and spend hours talking about his history, present and future. We talk about the history of the Tahltan people and the fights with the other first nations.
We verbally travel from the horror stories of the missionaries taking the First Nation children away to religious experiences of his friends, fights about lands and property to sharing very personal stories and advice about love & life. He lets us sleep in the first house he built, filled with more memories.
Besides being the host for a yearly 3-day gospel music festival at his ranch, Willie organises horseback riding trips through the wilderness of the nearby provincial parks: Stikine River, Spatsizi Plateau & Mount Edizia. Every trip is different and some clients come back regularly.
Willie showed us a book from a german photographer, about the area, almost completely shot during the trips he guided. No website, no email. "How do you get your clients?" I asked him. "I don't know, somehow people seem to find me", he replied.
More than a week later we would meet Willie again, in Smithers where we also met his wonderful wife Grace. Thanks for letting us into your life for a short moment Willie, it will last much longer than just the few hours we spent together.
ps: To make it a bit easier to get a special adventure that might just change your outlook on life, call Willie or Grace Williams in BC: 250-771-4301. Trips can take anything from a few hours to a few weeks.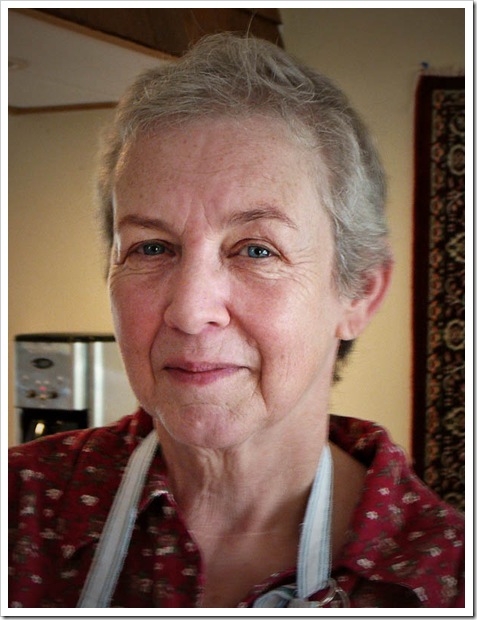 Holly passed us when we were having lunch at Dease Lake, outside the library. She told us that we might be able to come to her place for a shower if needed, and that she would come back later that night. As it was getting cold and dark, we set up our tent behind the library, but found a note with a tasty cookie the next morning, inviting us for breakfast and a shower at her place…
We had spend another night in Champagne, hung over from all the food! We headed out on the old Alaska Highway and took a look in the old Indian Village nearby. It is more like a museum, with some examples of how the people lived before the days of the Highway and the 'white men'. Though it was closed for the season, we wandered around, through the different huts. It had a very high 'Blair-witch-project' -level and Ivana wanted to leave quickly 🙂
It had started raining again and though it stopped for a while, it came down with full force when we were about 30km away from Whitehorse. I was freezing, but Ivana -who did not have any rainpants- was even worse. We went to the first open store and asked if we could make a call. 10 minutes later, Tracy picked us up and took us to her house..
Tracy is one of the 6000+ people on the Warm Showers list. These are biketravellers from all over the world, opening their house for other cyclists. This can mean anything from a place to pitch our tent to a spare bed. No money is exchanged, as in the end most hosts will get some Warm Shower elsewhere. As the host are cyclists, they know what other cyclist need: mostly a warm shower (hence the name), a place to wash and dry laundry but also a lot of food 🙂
If you want to meet some nice people on a bike, usually filled with stories, sign up yourself and host us or other biketravellers.. Read more
Mr Cook had a new knee, his wife just recovered from lung cancer.
'We do not know if we make it through another winter, but we love the place'.
In winter they move South, to the lower 48.
Mr Cook gave us a big chunk of moose minced meat. 'We are not going to finish it.'
It was time to leave our friend named Alaska and meet another partner for the next few months, named Canada. We had so many good times and many bad times. It is funny how even a fictional line on a map can define a relationship. We felt like we had to say goodbye to family…
We had stayed another day in Tok, it was just too perfect to camp for free, behind a 24/7 gasstation and next to the supermarket. We had to take care of our belongings as there was a group of drunk locals nearby. We have noticed this often lately: small groups of native Americans, who walk or sit around with paperbags or just with a bottle of scotch. It is a sad sight and a result of many bad political decisions in a long row.
We met a few other travelers who stayed the second night on the same camp; a young cyclist from Quebec, who was on his way home and a couple from Argentina (www.amunches.com) who were at the end of their 6 year journey. It was nice for Ivana to speak some Spanish and to drink some mate, but also interesting to see that they were clearly tired. Tired of travelling, tired of telling their story. The next morning they left early, but they had left Ivana some rainpants, though they were not really suitable for cycling as we would find out soon..
We left with dry weather, but quickly the hills and the rain started. Ivana's pants ripped and one leg came off. We stayed at a very wet campground near a lake that probably was very pretty if you could see it. Only a few days later (fortunately) we read the report of fellow cyclists Tim & Cindie, who had seen a bear while camping here. We had been less 'bearanoid' as we had simply not seen any bears in Alaska outside Denali park, which in some ways is more like the Serengeti than the 'real world'…
The next day we were completely soaked again and Ivana was ready to quit and fly home to sunny Argentina… Just in time we passed a visitor centre for the Tetlin National Wildlife refuge. Two ladies, who lived all their life in the native village of Northway and worked as volunteers, came to the rescue. They gave us tea, let us dry our clothes and even prepared a few delicious sandwiches with salmon. Just before we left, they even gave some chocolate. It is people like these that we will take with us in our heart when leaving Alaska.. Read more
Ivana poses with the two lovely ladies at the Teslin National Wildlife refuge info center. They talked Athabascan between them, while working on some nice handicrafts. Visit the center if you can and say hi from us 🙂
"I went fishing with my sister one day. Day was my one day off in 26 years…"
"So what gun did he use on that bear? That's stupid. A wounded bear is dangerous."
"if you want to stay for the night, you can camp or you can stay in the old bus in the back. And the price is… free!"
"The rangers have no idea about the real people living here. I have never seen any of them in our store".
"I like biketravellers. They are not as snotty as those guys with their half-a-million-dollar motorhomes".
Some quotes by Jay, a wonderful guy. Stop by, one mile NE of Slana town, midway on the Tok Cutoff highway. They have a great general store, with very good prices and selection and are just a pleasure to be spending some time with. Debbie gave us a big chunk of halibut, she had caught it herself a week ago. Still 'small fish' compared to the bear, moose and other wildlife she had shot. Not just to kill like some part-time hunters, but for food or protection.
Oh, and people can stay for free in the great bus, turned into a campervan.
Thanks so much, jay & Debbie, you are wonderful.