Ivana poses with the two lovely ladies at the Teslin National Wildlife refuge info center. They talked Athabascan between them, while working on some nice handicrafts. Visit the center if you can and say hi from us 🙂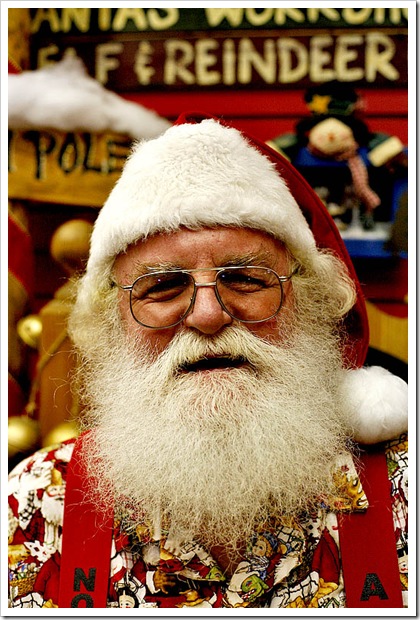 Claus, Santa Claus. You can write him by sending a letter to:
Santa Claus, North Pole Alaska. Though invented by Coca Cola, this Santa has turned commerce around and now lives his dream, in Nrth Pole, surrounded by toys and happy children..
I saw Jesse coming out of the bush when we were cycling on the Elliot Highway. He waved and I noticed his dog jumping in the back of his car.
An hour later we stopped for lunch and he passed and stopped to chat. Jesse had been picking blueberries and offered us many handfuls of the delicious fruit. He had been scouting for a place to spend the winter. He will pass the dark days in a shelter or tent, together with his dogteam, of which Minto is one of his best buddies.
Jesse did not have much, but shared his berries and also his place in Fairbanks with the other biketravellers.
Joe Carlson is a wonderful person. Joe and Nancy have adopted about 15 children, which supplemented their 8 'homemade' (their own description) ones. They raised all 23 kids in their homestead, which they built from scratch. He is an entertaining person, which comes in very handy when the tourbuses come in. The sale of souvenirs is his main income, so when the large buses stop in front and a few dozen of mostly grey-haired pensioners on an Alaska tour come in, he switches on his salespitch. he greets all people in their home language, talks about the store, about Alaska, gives away free coffee and sell the souvenirs. 10 minutes later everybody is gone and he switches back to his relaxed mode.
They are a great family and their story is extraordinarily. When you are in the area of Fairbanks, do go up to mile 49,5 and visit Joe and listen to their history. Get a free coffee and a cheap delicious muffin and see what you can build up if you have determination and a free spirit.
'I have been living in Wiseman since 1971, when I was 13. I have to go to Fairbanks to get supplies every 3-4 months, but hate it.'
Jack Reakoff is one of Wiseman's famous faces and voices. he seems to know a lot about a lot and works part-time as a tourguide, showing busloads of tourists around Wiseman and telling all about its history. Whenever there is a radio discussion about a current topic, Jack calls in and he has been featured in books, videos and guides. he sells fur from animals he hunts and traps and beads to make necklaces and jewelry.
He has a clear opinion about the oil industry and the thoughts behind the pressure to start drilling in the last remaining wilderness in the arctic:
'It's all political. Due to new drilling methods there is actually more oil in the North Slope available than there was when they started drilling a few decades ago. But they have to lower the output, which serves them for several reasons: firstly, the pipeline will not break. It is old and corrosion has lowered the maximum pressure that can go through. Read more
8-Ball, is one of the 33 inhabitants of Wiseman, Alaska. He had worked on the pipeline and has climbed some mountains in the area. He set us up with a cabin for 2 nights and even gave us some fresh lettuce, with dressing! He is the new owner of the Wiseman Trading Post, the old general store slash museum.
'Yes, the General Store is mine. I bought it a few years ago, when the guy owning it moved out. I am not really using it, but wanted to prevent some tourist company buying it and making it into a tourist attraction.'
What is his real name?
'8 Ball is how they know me and what I answer to, and it is how I am in the phonebook.'
Only when checking his store, I notice a small card saying to whom checks to pay for t-shirts and souvenirs can be written out to. Apparently the bank does not know '8 Ball'. Next to the card is a jar and a sign stating: 'We use the honour system, please deposit the money for what you bought in the glass jar'. Below the packages of chewing gum that are marked with 30cts is a little note: 'The gum is 30cts. Only got 25? Close enough'
'Yes, I have no time to stand in the shop all the time. if people really want to take anything without paying for it, they can have it.'
Just when we were cycling out of town, we heard an engine behind us and 8-ball appeared on a small 4×4 vehicle that every Alaskan seems to have nowadays. 8-ball stopped besides me.
'I forgot my manners. As you were going to Coldfoot for some lunch, I just thought, maybe I can make you some soup! Do you want some?'
The we did something that biketravellers normally never do: we turned him down.
'Thanks for the offer 8-ball, much appreciated, but you already have done so much for us. We have to go.'
after we woke up in our church, we noticed that it was actually dry! Not only that, but the weather improved during the day. Oh, how life is so much easier with some sun. I know we will curse it later when in the heat of central America, but for now it was very welcome.
We passed quite a few roadhouses and motels, that were either closed for the season or closed altogether. Seems that the combination of higher gas prices (increasing the costs for the generators and heating) and lower number of tourists (also partly because of higher gas prices) already has put many businesses out of business. Still some smaller business like the Cappucino house at the Gakona Junction seemed to survive. Shame that most clients never leave their car and stop to talk with the friendly ladies that run the wildly decorated place. Louise warned us for the many wild bears that were on the coming stretch and showed us some photos of a bear on the side of the road that apparently was not afraid of humans at all, taken a few days before…
We had stopped for some internet at Gakona Roadhouse, a nice historic place in a beautiful setting. It was comfortable to stay there, but the late evening sun convinced us to go a bit further and so we managed to see the beautiful sunsets over the Wrangell-StElias national park, with its 2 dominant peaks (from this side) Mt Drum and Mt Stanford. Read more
We both had a very strong love-hate relationship with the Denali Highway. It is a bit over 200km/130mi long, but 80% of this is unpaved. Sometimes tougher than the Dalton, wilder than the Denali park road, and wetter than the Netherlands :). ladies & gentlemen, we offer you: The Denali Highway in pictures, with some words as well…
It started out ok, with some nice roads from Cantwell, but soon the gravel came back with full force. Ivana had a bad day, so I just stayed away from her; I bit on front or a bit in the back. That is usually the best thing to do, when one of us has an 'angry day', when all roads are terrible, the legs won't work or rain seems to hit you every minute. I was actually enjoying this road a lot.
It was nice to be away from the main traffic again. almost no people live here, rental cars are not allowed to drive these roads and trucks have nowhere to go to here, so all cars you see are travellers or hunters. All of them wave back when we wave at them and many stop for a chat. The landscape is simply stunning: from high mountains (even though most were hidden in thick, rainy clouds) to taiga forests and age -old glaciers. We cycled through valleys, crossed big rivers, saw al kinds of wildlife and met friendly people. We got rained upon, almost froze our hands and feet, downhilled in the dark and found cyclists' heaven, all in a few days. Almost too much to process. Pictures do not do justice, but I will share a few, together with some short stories from the road: Read more
After all the planning, we were anxious to get on the plane. Romke again suffered sleep deprivation because of our trip and woke up with us and took our bikes and all bags to Schiphol airport at 5 in the morning. It was raining cats and dogs (or lions and hyenas as we use to say in Tanzania, but that is a different post about our preparations that we still have to write 🙂
We had booked with Condor airlines, but the first leg (Amsterdam to Frankfurt) is executed by Lufthansa. It was a messy check-in, but while we were busy preparing our bikes for the transport, we were pleasantly surprised to meet up with our friend Bas. He works on a project at the airport, heard we were leaving and came in a few hours early to boost our sense of humour as always 🙂
Condor had been nice to us by allowing extra luggage, free transportation of our bicycles and the lowest ticket price.
One of the best things they offer is cheap international one way tickets. somehow all major airlines charge more for a one way ticket than a return ?!? Anyway, as we try to minimize our flying because of environmental impact, we were also happy to find out that Condor flies directly from Europe to Canada/Alaska instead of going through major hubs in the lower 48. This makes the trip shorter and therefore cleaner.
The Lufthansa part was great, the check-in easy and the on board service friendly. We could check our luggage all the way through to Fairbanks, so at the huge -and customer unfriendly- Frankfurt airport, all we had to do is get new boarding passes for the 2nd flight. Well, it turned out that is was lucky that we had a 3 hour lay-over, as we needed it between walking from one end to another and queuing up at Condor..
The flight itself was basic, no personalized TV, but I can live with that in exchange for a few hundred euros saved. Besides, we crashed (no pun intended) in our seats the moment we sat down and only woke up for drinks and meals… The food was nice and the views (perfectly announced by the friendly pilot when applicable) were outstanding, seeing the Norwegian coastline, Jan Mayen island & volcano, Greenland and Northern Canada, before we stopped for a while in Whitehorse, Canada. Another hour later we touched down in Fairbanks, Alaska, just a few degrees south of the polar circle.
We were delighted to see that not only our bikes, but also our bags made it. Less happy I was when I noticed that some baggage handler along the way had roughly turned my front wheel in such a rough manner that it had scratched my frame and destroyed my front light. Immigration was very friendly here and very interested in our trip and gave us no trouble.
While we were reorganizing our gear and fixing our bikes a huge rainshower passed and Ivana and I looked at each other with a frightened look and started looking for our Vertical raingear. Our bikes were heavy and we were both grumpy, until we saw the campy roadsign that welcomed us.
We had been in contact with Ericka *& Miles through the excellent Couchsurfing community, offering hospitality between/to travellers. Her house was easy to find and we were welcomed to our own room where the packages I had ordered were already waiting: a new lens for my camera, some memory cards, a new stove and a big box from Big Agnes/Honey Stinger with our new tent and a lot of energy gels and bars.
Ericka let us call to Matt at the Northern Alaska Tour company and we were pleased to hear that one of their vans was leaving the next morning, and they were offering us free seats for us and our bikes and gear, all the way to Deadhorse! This is the name of the community near Prudhoe Bay, close to the Arctic ocean as we could get and the start of the Dalton Highway. This was perfect!
Ericka helped enormously by driving us from one store to another to get some last minute supplies lie some spare inner tubes, dinner and breakfast and bearspray! (As I mentioned in my first post, they did not have after-bear..).
Fairbanks is 10 hours later than Amsterdam, so our day was already 34 hours long. We were tired after all the lack of sleep but as we would leave in a few hours, time to sort our stuff again: what would we not need the first 2 weeks? Mistakes can be fatal for us or our bikes on one of the roughest roads imaginable…
We are now several days on the road and have some time to write some proper reports. Frankly I am amazed I can type this, as I was sure that the constant bumping of our bikes and bags over the very rough roads would have destroyed Lenny (Our Lenovo X300 laptop), but surprisingly it still works as always, long live the solid state harddisks. If you can actually read this, then it means it has survived all 2 weeks of Dalton Highway, one of the most infamous pieces of dirt road in the world…
But let's go back a few weeks, back to the lowlands and share our journey with you in words and images.
I am not sure if it is me (us) or is there just no way to properly prepare for a 2.5 year trip? We had been planning since a year ago and still many things had to be done in literally the last minute. At least you can get a lot more done if you use the 8 hours we normally waste on sleeping on working and preparing 🙂
As our house was already rented out, we moved back and forth between my mom's house and Romke & Anouks place. R&A have two wonderful kids and they were happy to assist in sorting out all the gear we received from our wonderful sponsors, this is Kira, checking out the Ortlieb and Carrera gear that Jacobsons sent us.
and this is how part of their livingroom looked during their vacation:
Thanks again, Romke & Anouk & Kira & Jelte, we would not have made it without you.
We took the train up North to say goodbye to my Mother and Sister. By the way, in The Netherlands we have a great railway system, which will get you everywhere in no time. of course people like to complain about the train service, but i think it is perfect, there are even a lot of special spaces for bicycles in every carriage, very useful to do some last minute fine-tuning:
My Mum helped us with some last things and we even managed to make a mess in her place. She was very sad; even though I have been away for many months at a time in the past, this will be the longest period away so far.
My sister lives close and we also visited her to say goodbye. We had a nice dinner at a organic Indonesian restaurant in Assen, with great food and service and we could even park our bikes inside. As with my mom, she was in tears when we waved goodbye from the train, but again somehow I was not sad, maybe we will see each other soon again.
Ivana had already said goodbye to her family in March, when she came to Amsterdam. But thanks to the wonders of skype and broadband Internet, she had been talking/videoconferencing with her mum and sister (that almost have the same names as mine) every evening for hours, while packing and sorting stuff.
Going on all these adventures is selfish in a way as we are worrying our friends and family. But I think we can repay their concerns and affection with stories and images and knowledge that we are following our hearts.
ps: we also had a nice going away slash b-day party, but i will post the images in a separate post once we find the images again 🙂